Events
Feminist Activist Research Workshop
Opportunity to apply for an Activist Research Fellowship!!!
Interested in feminist action research? Want to learn tips on how to put together an effective funding proposal? Join us for a workshop with activist-researchers working with local communities!
Friday, October 4th, 2019
10:00am-12:00pm
Storm Hall 127
Feminist Research Colloquium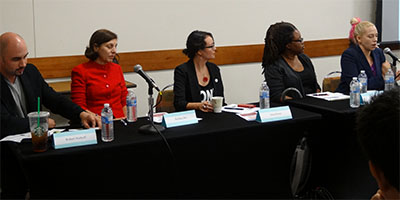 The Bread and Roses Center hosts a monthly Feminist Research Colloquium series that provides a platform for discussion of ongoing research, scholarship and activism in Women's Studies. Offered each semester, the series features lectures by scholars and activists from SDSU, the U.S. and abroad. The series has hosted many renowned national and international speakers, including Cherrie Moraga, Ana Castillo, Julia Alvarez, Loretta Ross, Beverly Guy Sheftall, Dorothy Roberts, Rubina Feroze Bhatti, AnaLouise Keating, Medea Benjamin and Kum-Kum Bhavnani.
The previous themes of the lecture series have included:
2018-19: Feminist Futurities
2017-18: Abolitionist Visions: A World without Prisons, Walls, Detentions, Imperialism, and War
2016-17: Transgressive Sexualities
2015-16: Social Justice, Healing, and Transformation
2014-15: Women, Politics, and Activism
2013-14: Science, Sexuality, and Health
2012-13: Gender, Conflict and the Environment: Visionary Futures and Transnational Communities
2011-12: Women, Social Justice, and the University
2010-11: Women's Transnational Networks: Activism in the Global Arena
2009-10: Feminist Crossroads: Bearing Witness and Building Social Change
2008-09: Women, Politics and Activism
Feminist Activist Research Scholar Symposium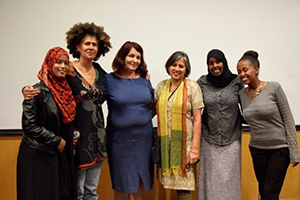 Formerly known as the Feminist Research Justice Symposium, this one-day annual event brings together faculty, graduate students and representatives from local women's organizations and foundations to discuss and explore opportunities for collaborative, applied research, and to discuss the ways in which students can become actively involved in their communities. Since 2015, more than 30 community organizations and 300 students, faculty, and individual community members have participated in our symposia.
The symposium is based on the concept of Feminist Research Justice, which is a framework that seeks to transform the structural inequalities inherent in traditional scholarly research by placing the voices and needs of local communities at the center of all aspects of the research process, including design, implementation and dissemination. It asserts that local communities are also experts in the production of knowledge, and that researchers should work with communities, not just study them for the abstract pursuit of knowledge. Meaningful social transformation cannot happen without the active participation of local communities. Additionally, Feminist Research Justice promotes research that places women's lived experiences and the intersections of gender, race/ethnicity, class, sexualities and other markers of difference at the center of analysis.
The symposium includes workshops and keynote speeches on a wide range of topics, such as the empowerment of girls, reproductive rights and justice, domestic violence, and refugees. We have organized panel sessions in which students learn how to develop advocacy skills and strategies, and learn about local activist volunteer, training and employment opportunities. The 2017 symposium featured a keynote address on cultural activism by award-winning poet and novelist Ana Castillo.
Through the Bread and Roses Activist-Scholar Fellowship program, we match student researchers to community-based research projects proposed by local agencies and community organizations at the symposium. The fellowship provides financial support for the students who are matched with a research project.
Some of the local community organizations that have participated are: Planned Parenthood of the Pacific Southwest, Nile Sisters, License to Freedom, YALLA, the Partnership for the Advancement of New Americans, the Young Women's Studies Club, SafeZones@SDSU, California Latinas for Reproductive Justice, Run Women Run, Jewish Family Service of San Diego, the Women's Museum of California, the Center on Policy Initiatives, the League of Women's Voters of San Diego, AAUW San Diego, the SDSU Sexual Violence Task Force, and Breaking the Silence.
We are grateful to the following donors for their generous support of this event: the SDSU President's Leadership Fund, Deborah Carstens, the Forbes Family Foundation, the SDSU Division of Research and Graduate Affairs, and Planned Parenthood Federation of the Pacific Southwest.