About Us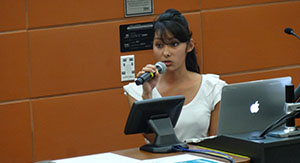 "Bread and Roses!"—the historic rallying cry of the women's labor movement in the early 20th century and an enduring call for women's economic and political empowerment.
The Department of Women's Studies at San Diego State University has long been committed to excellence in teaching, scholarship, and activism. The Bread and Roses Center plays a central role in promoting activism – in close connection with research and teaching. Since its founding in 2002 by the Department, the Center has been a hub for programs that promote creativity, scholarship, and community action in support of the women's movement. Initially, it offered a "Feminist in Residence" program that brought prominent feminist scholars, artists and activists to SDSU, such as playwright and artistic director Muriel Miguel and former California Assemblywoman Lori Saldana. More recently, it has been the home for the Feminist Activist Research Symposia, the Feminist Research Colloquia Series and the Young Women's Studies Club. It has also hosted special events and workshops such as the Reproductive and Sexual Justice Healing Circle and Training (2010-2014), and a "Day of Action" (Fall 2011), which brought policy experts, lobbyists and activists to campus to educate SDSU students and the local community about the effects of state budget cuts on women. A generous gift from Deb Carstens and an award from the SDSU President's Leadership Fund have given us the boost we needed to revive the Center and take it in a new, exciting direction.
While the Center will continue to serve as the umbrella for various departmental activities, it will expand its mission to include 1) building a stronger local feminist community, 2) linking feminist theory to practice, and 3) training future feminist advocates and professionals. In all three endeavors, the Center increases the value of SDSU to the local community by providing another area of meaningful intellectual service.
Professors Huma Ahmed Ghosh and Kimala Price of the Department of Women's Studies continue to lead this endeavor as co-directors of the Center.